Iridescent Acrylic Sheets
Iridescent acrylic sheet is a colorful alternative to traditional plexiglass sheeting used in signage, store fixtures, POP displays and more. These acrylic sheets feature a rainbow-like surface that changes the viewing perspective as light hits it, but does not require specialty lighting. The colors of iridescent acrylic change as your viewing angle changes, creating different dimensions and color patterns. The use of ambient light to create its own effects products mirror-like reflections that shine in every color imaginable. 
---
Features and Benefits of Iridescent Acrylic Sheeting
Iridescent plexiglass features 92% transmission of light and is UV absorbent, but is not suitable for outdoor applications. If you are looking for lighting plastics that have improved resistance to outdoor conditions, try light guide panel plastic sheeting.
We understand that the price of our iridescent acrylic sheeting may seem costly. However, this is due to the strength and quality of this indoor plastic sheeting. Be sure to check our surplus warehouses to see if the iridescent plexiglass is available at one of our locations at a more competitive price. Also, be sure to look through the rest of our specialty plastic sheeting. From abrasion resistant acrylic sheets to our bullet resistant polycarbonate, we have the best selection of high-quality specialty plastic sheets.  If you have any questions about iridescent acrylic sheet or would like more information about wholesale pricing, fill out a form or call us at (888) 702-6028.
---
Learn More About Iridescent Acrylic Sheets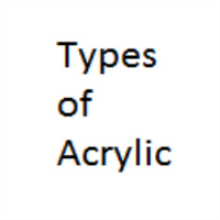 Three Types of Acrylic
There are three main ways acrylic plexiglass is manufactured. Each style has their own advantages and disadvantages. This article will outline the differences between the three main types of acrylic sheeting.
View Information Resources