Multiwall Polycarbonate Sheet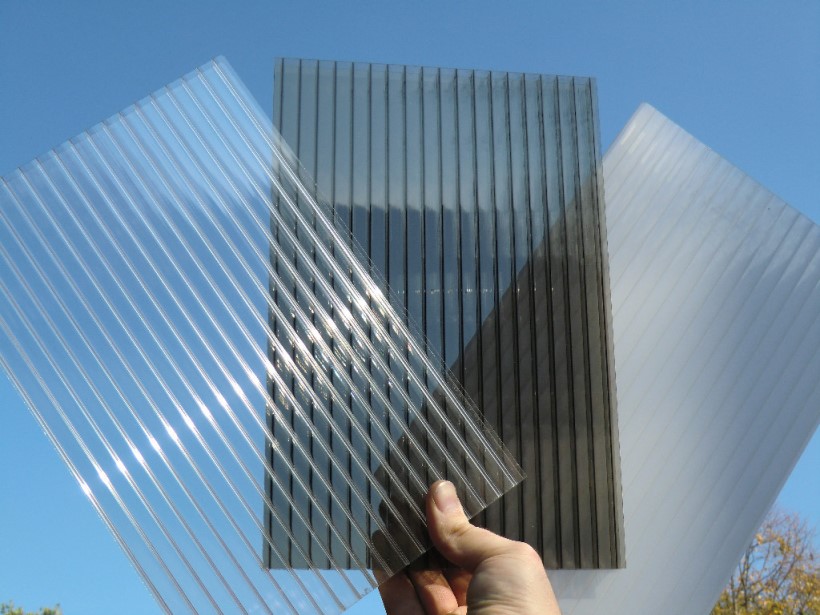 Unlike other glazing materials, multi-wall polycarbonate sheet is virtually unbreakable and provides as much as 60% more thermal insulation than glass. Its light weight, durability, strength and ease of installation make it the ideal glazing material, especially for outdoor applications. Structured polycarbonate sheet is the most versatile structured thermoplastic available today. A co-extruded protective layer guarantees the highest stability against the harsh effects of the sun's rays and the multi-walled design gives a stable weathering surface.
No customer's order is too large or too small. If your supplies are running low, put our service to work for you. For wholesale pricing or more information on our multiwall polycarbonate plastic sheeting, call us at (888) 702-6028 for fill out a quote request form.
Please click here for the Product Details, Installation Guide, and the MSDS.
---
Qualities of Multiwall Polycarbonate Sheets
Multiwall is the number one choice for outdoor glazing applications because of its superior qualities. The weather resistance qualities of multiwall far surpass those of traditional polycarbonate sheeting and acrylic sheeting. When used in heat, a ball test that breaks and shatters other materials only dents and bends, not breaks like other plastics. In addition to weather resistance, multiwall sheets provide high light transmission while still blocking harmful UV rays. These structured polycarbonate sheets have excellent thermal insulation properties and extremely light in weight.
Multiwall sheeting is virtually unbreakable and is 10 times stronger than plexiglass and more than 200 times stronger than glass. Even with this incredible strength, polycarbonate multiwall sheets can be cold formed on-site without splitting or cracking during fabrication. Don't forget to buy your multiwall profiles for installation and fabrication. Have questions? Contact us, request a quote, or give us a call and we'd be happy to help.
Because of multiwall's versatility, common multiwall polycarbonate sheets applications include:
Greenhouses
Skylights
Solariums
Atriums
Patio Covers
Pool Covers
Walkways
Commercial
Industrial
Residential
And More
---
Learn More About Multiwall Polycarbonate Sheet