Wholesale Acrylic Sheets When You Need Them
We at A&C Plastics are your partner in plastics and we can offer a superior variety of wholesale acrylic sheets online, at the most competitive prices available. Since our inventory is unbeatable, we excel over competitors in providing the best types and varieties of plexiglass as well. While other suppliers struggle to meet the demands of their customers across the country, our central location with three warehouses in the Midwest can deliver up-to-date response times.
We meet the immediate shipping needs of our customers from coast to coast. We are dedicated to providing you the best acrylic wholesale and plexiglass products. Matching the unique needs of individual and bulk plexiglass purchasers, our team maintains the highest standards to answer your every demand. Contact us today to hear back from one of our dedicated team members today!
Connect With One of Our Acrylic Wholesale Experts Today
If we don't have it in-stock and in the options you need, our plastic experts will find it! Give us a call, or please fill out the form below.
---
Industry Solutions From a Partner In Plastic
A&C Plastics has led the nation as a supplier in top-quality plastic distribution for years. Headquartered in Houston, Texas, we've developed over the years into much more than a plastics sheeting group. Though we started a small company with dreams to serve the country the highest quality and cost-efficient plexiglass and acrylic sheeting solutions, we maintained our small-town company demeanor all the way toward our current position as an industry-leading distributor. Our motto has remained the same: We consider ourselves your "partner in plastics"—no matter how large or small the customer. In the bulk plexiglass market, however, we come up against a few questions over and over, which we would like to address below.
How Do Bulk Plexiglass Orders Differ From Smaller Orders?
Thanks to our wholesale acrylic sheets inventory boasting some of the most varied and select acrylic and plexiglass options on the market, we can present a larger number of plexiglass and acrylic solutions than many of our competitors. We owe a lot of our flexible wholesaling capabilities to our three strategically sited warehouses across the Midwest. While many warehouses are only able to deliver large bulk orders to customers residing nearby, our complex inter-warehouse communications allow us to distribute bulk orders all across the country.
What Do You Include Among Your Wholesale Plexiglass Inventory?
As we develop more and more across our three warehouses, we can deliver a more varied inventory of wholesale acrylic sheets to our loyal customers. As of now, we have the in-house capabilities to distribute many of our acrylic and plexiglass products in bulk straightaway to our customers. These products include:
Museum Grade Acrylic
Tinted Acrylic
Colored Acrylic
Clear Acrylic
White Acrylic
Tinted Acrylic
Mirrored Acrylic
Fluorescent Acrylic
And many more! Just contact us for more information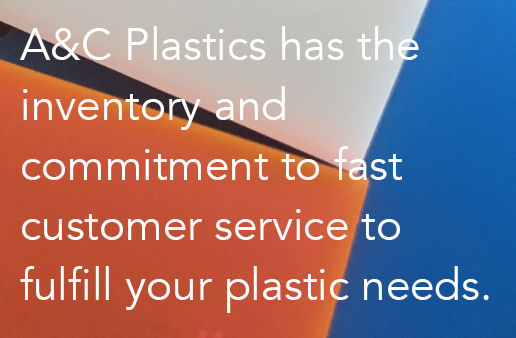 ---
A&C Plastics History
From our founding in 1973, A&C Plastics, Inc., has prided itself as the foremost plastics distribution company in its niche country-wide. We try to balance ourselves between the demands of our individual customers and our long-lasting ties to our wholesale acrylic sheets and bulk customers. In the end, we find ourselves operating somewhere between the two unique requirements of smaller and larger customers--a balance that defines us to this day.
In bulk acrylic sheets and wholesale plexiglass markets, we distinguish ourselves as a company that remains a "partner in plastic" for all our cherished customers. As we grow in distribution with three wholesale locations across the Midwest, we always return to the needs and standards of our unique personal customers in order to ground us and constantly provide customer service and accurate deliveries which we consider a commitment to service and a commitment to excellence. No matter the job, we want to help you get it done.
---
More Questions About Bulk Acrylic Sheets and Plexiglass?
We here at A&C Plastics take every customer's demands seriously. We pride ourselves on responding as soon as possible. Ordering bulk plexiglass shipments is a central part of growing your business. We understand that there may be questions about the production process, shipping times, and accuracy. With our 30 years of excellence, we've refined our responses to bulk customers to an art.