It is no coincidence that Tru Vue's Optium Museum Acrylic® finds itself being used in some of the most demanding and delicate glazing applications around the world. Not only does this acrylic sheet offer 99% UV Blockage to protect the most sensitive pieces, it also is Anti-Reflective, has an Abrasion Resistant hard coat, and is Anti-Static. If you have a nice piece of artwork you want to protect, look no further than Tru Vue Acrylic Sheets.
99% UV Protection

Superior UV protection to preserve fragile works and other items from being harmed by UV rays.

Anti-Reflective

Allows limited reflection for optimal viewing.

Abrasion Resistant

 Hard coat helps prevent minor scratches from transit as well as highly trafficked areas.

Anti-Static

Ideal for charcoal and pastel applications, as well as reducing dust accumulation on the surface.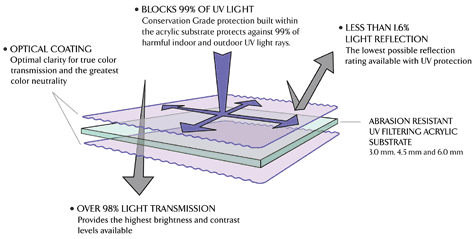 Additional Features & Benefits of Optium Museum Acrylic®
Boasts >98% light transmission for excellent clarity.
At half the weight of glass, the Optium Museum Acrylic® is a great choice for large applications.
Easier to clean than standard UVF acrylic.
Available in various gauges and sheet sizes.
Excellent shatter resistance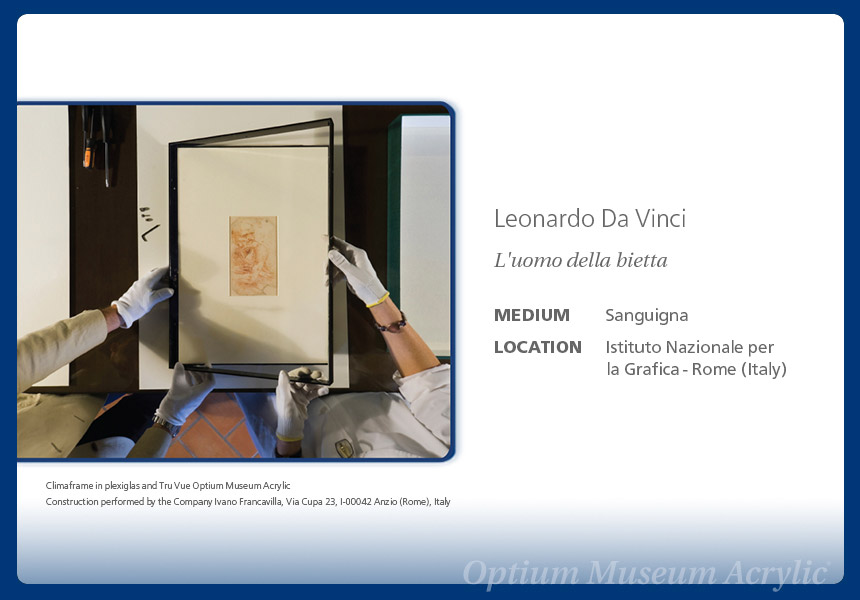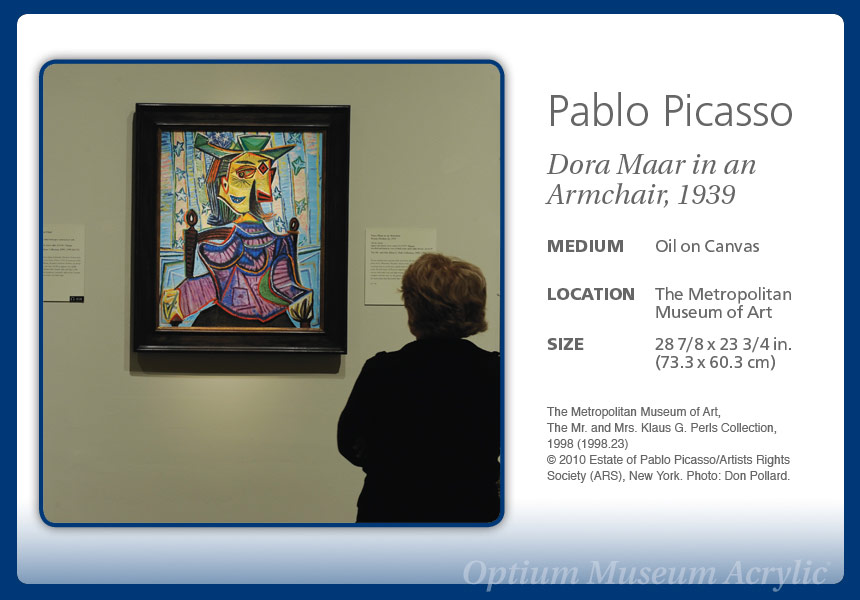 Testing & Certifications
Individual Tests
Passes Photographic Activity Test (PAT) ISO 18916
Meets ISO 18902 section 3.9
<1.0E+12 Surface Resistivity (Ohms/square
Passes Outgassing Oddy Test.
Passes Humidity Resistance MIL-C-48497A para 4.5.3.2
Passes RoHS Compliance ASTM B117-03
Passes Corrosion Resistance (Salt Fog) ASTM B117-03 & B368-03 & B368-97
Passes Coating Adhesion (Snap Tape) MIL-C-48497A para 4.5.3.1
Passes Solubility MIL-C-48497A
Accelerated Aging 2000 hours (~100 years) of Q-sun Xenon Arc Testing at exposure intensity of 100,000 lux properties remain unchanged
Certifications


Conservation Grade Protection
ISO 18902 Photo Safe, Safe for Friable Materials
Related Documents
Related Videos
TruVue Optium Museum Acrylic
Optium Museum Acrylic in the Rijksmuseum
TruVue UV Coating Technology
TruVue Conservation Grade UV Coating Technology