There is so much more that a contractor or even a novice can do with the material other than just synthetic wood sidings. So let's take a look at seven creative uses of plastic lumber that will instantly enhance the look of your home.

1. Gardening
Finding uses for plastic in gardening saves the environment in three ways: finding uses of recycled plastic, planting new plants, and cleaning up the air. Also, since it is essentially water-resistant lumber, it will look nicer for longer.
Plastic lumber, when used in place of common lumber, is a better choice. It will provide the traditional appearance but is wood that doesn't rot. Even after years of rain and watering plants, a plastic lumber planter will look more or less the same as when you built it. Plastic never breaks down, which is why it is so important to recycle it. By shaping that plastic to look like wood, you give yourself a beautiful planter or garden lining in the process.
2. Composite Decks
Not every project you undertake with plastic lumber has to be made of fully synthetic materials. A wood-plastic composite material uses a mix of both wood fiber and recycled plastic. When designed properly, this type of wood-plastic composite, when combined with common lumber, will provide a truly custom look. To do this well for your composite decking project, you should find a contractor who has experience working with composite decking and an understanding of how to make plastic look like wood.
Composite decking may not be a less-costly option up front, but it does have 2 to 5 times the lifespan and requires much less maintenance than a deck made entirely from common lumber. The foundations of the deck will certainly be solid beams of natural wood, but many of the outward-facing surfaces can utilize plastic lumber or a wood-plastic composite.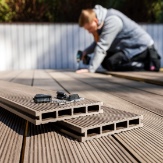 3. Benches
Benches usually are not placed very high on the priority list when it comes to upkeep. Naturally, it makes sense that people designing parks and public spaces might want to choose a material that doesn't rot, such as water-resistant lumber.
The use of recycled plastic in plastic lumber provides savings in the long run due to its longer lifespan and requires less maintenance. Utilizing plastic lumber, or a wood-plastic composite for outdoor furniture such as benches in public spaces, is a wise choice for durability and is environmentally friendly.
4. Picnic Tables
Similar to plastic lumber benches, wood tables that are durable and don't rot are something most people can support. Since a city commission of some kind has to maintain outdoor furniture and picnic tables in public spaces, they can advertise the fact that their tables are made from recycled materials as a PR strategy. Plastic lumber picnic tables would be an excellent idea for any city.
Picnic tables made from this water-resistant lumber will last longer and require a fraction of the annual maintenance of those made from common lumber. The same can be said for most types of plastic outdoor furniture. And in most cases, it makes them a brilliant candidate for plastic lumber construction.
5. Walkways
Similar in style to the boardwalks of Coney Island in New York and other coastal recreation areas, you can use plastic lumber for the walkway to your front door or through your backyard. Since plastic lumber is water-resistant and doesn't rot, it makes it a perfect substitute for outdoor walkways made from stone or tile.
Made from recycled plastic, plastic lumber is water-resistant lumber and is essentially wood that doesn't rot. Additionally, plastic lumber is virtually maintenance free and doesn't produce splinters of any kind making it ideal for walkways.
6. Outdoor Furniture
There is no need to limit the practical uses of plastic lumber for the exterior of your home. Almost any outdoor furniture project that would call for common lumber can be substituted with plastic lumber or wood plastic composite materials.
The difference in price between plastic lumber and other materials such as cedar is negligible for smaller projects. Still, the fact that you are using recycled plastic in your construction is enough of a reason to choose this option over many others. Adirondack chairs, lounging chairs, tabletops and children's outdoor activity furniture are especially benefited due to plastic lumber's stain-resistant qualities.
7. Children's Playhouse
Once upon a time, there was a tradition of kids building treehouses in trees near where they lived. While the excitement of treehouses may have faded over the years, who's to say it can't make a comeback? Plastic lumber is sturdy enough and durable enough to make a small, simple playhouse for the backyard or living room in an afternoon. If used and left outside, this water-resistant lumber can take a beating from the elements without breaking down or rotting over time.
The greatest feature of synthetic or plastic wood really is its durability. This substitute for common lumber looks very close to the real thing and its long lifespan will provide for many years of fun and entertainment. Best yet, you'll be saving the planet by using it since much of what it is made from is recycled plastic.
Contact Us