The Benefits of Plastic in Construction
Various plastics have different properties, but, in general, they share some important characteristics. Some of the reasons for the growing use of plastic in construction applications include:
Durability
Plastic building material is generally resistant to:
Impact
Abrasion
Chemicals
Rust
Pests
Fire
All of these characteristics make plastic a good choice for construction projects.
Moldability
Architecture and construction firms specify plastic building materials because plastic can be formed into a wide variety of useful shapes. Whether pipes, planks, conduits or sheets are needed, plastic can be molded into the necessary shape to get the job done.
Ease of Installation
Plastic construction materials are frequently easier to manipulate and install than metal options for the same use. For instance, plastic pipes can be molded so that they fit together without the need for clips or clamps, which are usually required for metal.
Cost-Effectiveness
Plastic is generally cheaper to produce and use than other materials. In the case of metal, it takes less energy to produce plastic, making it less expensive. Plastic's use as a low-cost building material is growing.
Weight
Plastic building materials weigh less than similar products made of metal, making plastic construction materials easier to transport to and around construction sites.
Energy Efficiency
Plastic building material provides great insulation capabilities, so it's a natural choice for homes and buildings where energy efficiency is a primary concern.
Aesthetics
Plastic construction materials have a pleasing surface finish and rarely need to be painted or treated after installation.
The Rise of Recycled Plastic Building Materials
Eco-friendly concerns have come to the forefront for the construction industry. For both cost and sustainability, environmentally friendly practices are becoming the norm. The use of recycled plastic building materials plays an important role in this trend, saving energy and landfill space.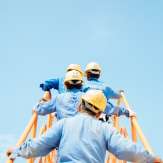 Types of Plastic Construction Materials
Depending on the use, construction materials can be made from several plastics. Polypropylene plastic sheet provides good impact, thermal and chemical resistance, while expanded PVC plastic sheets are excellent for signage, store displays and kiosks, among other applications. Plexiglass acrylic sheet is used for point-of-purchase displays and general fabrication. Polycarbonate sheets are lighter than all-glass systems and 250 times as strong as glass.
Uses for Plastic Building Material
Plastic building material is common for a wide range of projects, like piping, bus shelters, carports, skylights and more. Vinyl windows, doors and siding, along with plastic insulation, are often found in homes and other buildings. Plastic lumber is another go-to plastic construction material, used in structures like decks and fences, while carpeting is frequently made of recycled polypropylene.
But there are other, more innovative ways of using plastic in construction applications. These include:
Concrete
A team at MIT found it could expose plastic powder to gamma radiation and then mix it with cement paste to create a material up to 15% stronger than ordinary concrete.
Roofing
Roofing made of polyvinyl chloride is a viable option to more traditional roofing materials, like slate. Plastic is inherently water-resistant, and PVC is lighter and easier to install than slate, while still offering important advantages like impact and fire resistance.
Bricks
Some companies have started to offer bricks made of recycled plastic to quickly and cheaply build homes for people displaced by violence and other disasters. The bricks are used for both external and internal wall construction. These weatherproof bricks have the added benefit of being earthquake-resistant.
Get Your Plastic Building Materials from A&C Plastics
Plastic in construction offers so many great physical and mechanical properties, like resistance to rot and corrosion. A&C Plastics distributes a wide range of plastic materials for an even broader array of applications. You can count on our timely deliveries and outstanding customer service, no matter what your order size. Contact us today for the plastic you need.
Request A Quote