Our Story
A Plethora of Plastics
Sale of colored acrylic sheets brings rousing revenuesBy Tanya RutledgeHouston Business Journal Jun 16, 1996
Although Carolyn Faulk had a memorable stint as a teacher, she's has a more extraordinary career as a student. A small-town girl with an accent to match, Faulk has been a student of business since she began watching her father build boat windshields in her family's backyard. Instead of complaining about the clutter, Faulk quietly stored the plastics-indusrty knowledge she gained and turned it into the foundation for one of the city's most vibrant small businesses.
As president and chief executive officer of A&C Plastic Products Inc., Faulk is at the helm of a multimillion-dollar company in an industry that most people do not consider woman friendly.
A&C Plastics, and acrylic sheets distributor, is one of the leading plastics distributors in the Southwest. Thanks to innovative thinking by Faulk and her ex-husband, Myrl, A&C Plastics keeps a massive $5 million inventory, with more than 3,000 different types of plastics products.
A&C's products are sold to a variety of manufacturing companies and are used in making retail signs, shower doors, skylites, space suits, and even pianos. Some of the company's bulletproof materials are used for drive- through bank windows, convenience stores and prison windows. Carolyn and Myrl founded A&C in 1973 with $5,000 they had saved together. Polycast Corp., which had been Myrl Faulk's employer, decided to shut down its Houston warehouse and exit the market -- a move the couple saw as a business opportunity.
"Polycast just didn't think they were making enough money here, but what was no money to them was big money to me," Carolyn Faulk explains. "We took the $5,000 we had saved and started up with a client list and no inventory."
Faulk retained her day job as a school teacher, generating $800 per month on which she and her former husband committed themselves to live on for the next five years. After work, she would go to the small A&C office and work until 10 or 11 p.m. Because a $25,000 line of credit from Polycast was the only credit A&C had, the Faulks were forced to buy materials from their competitors in order to grow the company. They agreed to sell the plastic in quantities as small as one, two or five sheets at a time. Because of the Faulks' willingness to adopt a "no customer is too small" strategy, A&C was able to grow into a successful industry "middleman," and in 1977 the company hit the $1 million sales mark. Steady increases followed until 1987, when sales struck a three-year plateau. During that time, the Faulks were divorced and Carolyn bought out Myrl's share of the company. By that time, A&C had grown from a two-person company with an answering machine and a client list short enough to fit in a thin file folder to a major industry force.
"I had learned a lot about the industry by that time, a lot of which I think I picked up from watching my dad," Faulk says. "But there's so much to learn in this business. There are so many applications that I'm constantly learning." Faulk was confident enough in her business acumen that, after Myrl's departure, she shut down an El Paso office and opened a branch in Colorado Springs. While that branch still operates today the bulk of A&C's operation is housed in a 70,000 square-foot warehouse at 6035 Northdale in Houston.
Faulk says A&C started out in a small corner of that warehouse and has gradually taken over the entire facility.
Growth has been so phenomenal that Faulk is taking measures to control it. She says the company grew 16 percent last year and 43 percent the year before. Although bringing in 1995 sales of 11.5 million might delight most entrepreneurs, A&C's numbers actually frightens Faulk.
---
"I believe you can actually grow yourself out of business, and I'm taking measures to ensure that doesn't happen."Carolyn Faulk
---
"During the last two years, we've had an unbelievable growth spurt," she explains. "But I want to have controlled growth. I believe you can actually grow yourself out of a business, and I am taking measures to ensure that doesn't happen." Although Faulk looks cautiously at A&C's sales figures, the compnay's numbers were dynamic enough to impress the judges at this year's Entrepreneur of the Year Award program. Faulk was named Entrepreneur of the year in the manufacturing and distribution category for 1995.
A Milbury High School graduate, she belives a lot of the companies success stems from the fact that she carved out a niche by stocking hard to find colors and adopting a strategy that allows her to sell inventory to competitors at only slightly marked up prices. This unique line of business has earned A&C the title of the"distributor's distributor" within the industry.
Also, Faulk has adamantly refused to borrow against her recievables or to allow outside investors into the company. She tried that tactic a few years ago and found herself quickly struggling to regain 100 percent control of the 31 employee company, a feat she eventually completed while learning a valuable lesson along the way. "I'm very conservative, and I've decided that the best way to grow the company is to do it on my own," she says.
Faulk contends that she can be found wandering through the warehouse or testing out a forklift on any given day, she works hard to impress a woman's touch on the company. She remains devoted to providing the best service in the industry -- so much so that the company's motto is: "We're selling you the service and the plastic is thrown in for free."
---
From Then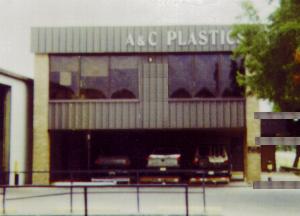 To Now