Why Companies Use Plastic in Construction
What are the uses of plastic in construction? Most buildings, decorations and objects are commonly assembled using materials such as wood, metal, cement and brick, so it seems easy to dismiss plastic as a viable option. However, plastic construction materials are used to build or renovate businesses more often than you may think, and for good reason.
The main reason is that plastic building supplies and materials are fairly inexpensive, especially in comparison to other building materials. Additionally, plastic lumber and supplies can be produced on a much larger scale than metal, brick and such, so it makes more sense financially to use plastic in some instances.
That being said, don't expect to see many (or any) buildings that are made primarily from plastic construction materials (unless you visit the EcoArk Pavilion museum in Taipei, Taiwan which is made from 1.5 million plastic bottles). But, when you walk into a business, you'll start to notice just how much plastic is used in construction when you pay attention to items like store furniture or signage.
Extraordinary Uses of Plastic Construction Materials
From swimming pools to sound barriers, more industries are choosing to use plastic lumber and components to avoid excess waste while saving time and money. So, who thrives from using plastic in construction? Let's take a look at how this economical material plays a significant role in the construction and building industry.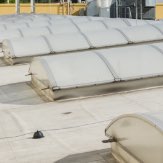 Plastic building supplies range from a variety of materials. From HDPE that's used to create playground equipment to polycarbonate being used as roofing material, there are many different ways to use plastic in construction and a plethora of advantages to doing so.
Where are Plastic Lumber and Materials Used in Construction?
Bus shelters
Skylights
Piping
Security windows and hurricane glazing
Carports
Benches and tables
Interior room dividers
Because of its versatility, plastic lumber can even be used for a number of residential purposes. From crafting superb deck flooring and sturdy fences to applications involving door and window frames, this fine material can help you construct a home that you're truly proud of. Before you get started on a new project, check to see if you can benefit from using plastic lumber!
Advantages of Using Plastic Construction Materials
When it comes to construction, plastic is:
Lightweight
Quicker and safer to install compared to other materials
UV and fire resistant
Energy-efficient
Cheaper than most other materials
Additionally, plastic has a large impact strength that makes it well-suited for construction projects. While plastic may not be ideal for every aspect of development, we recommend that you use it whenever possible to maximize your efficiency. After all, the last thing you want to do is waste any materials or money, so heed these advantages when you consider plastic lumber and building supplies over other materials.
Start Your Next Construction Job With High-Quality Plastic Building Supplies from A&C Plastics
If your construction company is thinking about using more plastic on the next job, be sure to check out our great selection of premium plastic construction materials before building. We've been an industry leader in plastics for nearly 50 years, and we're dedicated to using our expertise to provide value to your business. If you're interested in learning more about construction plastic or have other questions, contact us any time and we'll be happy to help.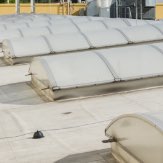 Superior Plastic Building Supplies
We offer a variety of materials that are perfect for your building and construction job!
Request A Quote
POPULAR PLASTIC TYPES

Fluorescent Acrylic
Although fluorescent acrylic plexiglass sheeting is brightly colored, these sheets are transparent in nature that allow the edges to glow with...
Shop products

Colored Polycarbonate
Colored polycarbonate sheeting from A&C Plastics offers the best flexibility, ease of fabrication, and unbeatable strength for any industrial or...
Shop products

Clear Acrylic
Clear plexiglass is ideal for POP displays, store fixtures, glazing and general fabrication. Clear acrylic sheeting offers manufacturers...
Shop products

Anti-Static Acrylic
With anti-static acrylic sheeting, you can stop worrying about electrostatic discharge causing latent damage and rejects to electronic items...
Shop products