Paying it Forward
32 April/May 2018 Performance Plastics
www.iapd.org
PlasticsInTheCommunity
Hurricane Harvey Makes the Importance of
"Paying It Forward" Crystal Clear
By Carolyn Faulk and Katie Clapp
When Hurricane Harvey hit the Texas Gulf Coast last year, no one
expected it to be the worst storm to hit U.S. shores in recorded
history. With 51" of rain and more than 30,000 people displaced
in Houston, TX, USA alone, communities were devastated. But there
was a silver lining to Harvey.
During the five days of non-stop rainfall, neighbors immediately started
helping neighbors and people from all over the country responded to
those in need. From local folks taking strangers into their homes to the
"Cajun navy" from Louisiana who rescued people non-stop to the A&C
Plastics customers who wanted to help, people responded quickly and
unconditionally.
As A&C Plastics, Inc. is based in Houston, their first concern was for
their employees and families. While, fortunately, no one in their work family
lost their lives, a few employees lost their homes and everything inside
them, their cars and other property. As the company scrambled to take
care of these employees, A&C Plastics began receiving calls from clients
and suppliers across the country who wanted to help in what clearly had
turned from a hurricane making landfall to long-term devastation. Beyond
their employees, the entire Gulf Coast was hurting. Everyone wanted to
help, but how?
Fortunately, in 2008, the A&C Plastics' owners founded The Faulk
Foundation, a 501c3 organization with the mission of supporting families
facing challenges in their lives, including hardships, illnesses or those who
have family members serving overseas. The organization is run completely
by volunteers and 100 percent of donations go to those in need. They take
a hands-on approach to determine needs and provide real relief on a caseby-
case basis so families get tangible results.
When they started the foundation, it wasn't because of one particular
incident or because they felt it was good for business. They started it
because they believe that "paying it forward" is simply the right thing to
do. Whether it's purchasing eye glasses, school supplies or putting a meal
on a family's table, they believe it is everyone's responsibility to make the
world a better place by helping others.
Money is obviously an important component in any charitable endeavor.
But rather than just writing a check, The Faulk Foundation goes to great
lengths to determine how financial resources can be used to comfort and
provide.
So, in looking to help families and individuals dealing with the urgent,
extraordinary circumstances of Hurricane Harvey, an infrastructure was
already in place to provide the assistance some of their worst hit neighbors
needed. When clients, friends and business partners asked how they could
help respond to the storm's disaster, they were told that they could donate
directly to The Faulk Foundation.
From there, A&C Plastics quickly realized that with their expertise in
distribution, they could increase the number of individuals they could
help. They leveraged their business connections with other companies to
provide building, cleaning and household items at discounted rates to help
A truckload of drywall and tools is loaded up and ready to go to people in need. Houston and nearby cities, including Beaumont, in the rebuilding process. Many smiles greeted the Faulk Foundation volunteers who helped those impacted by Hurricane Harvey.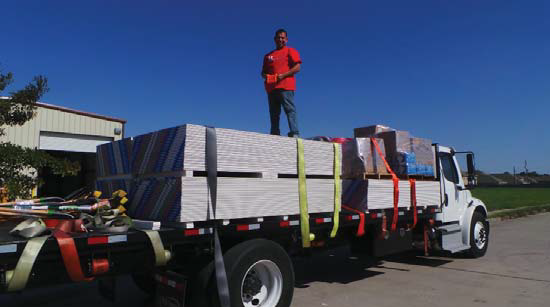 "Thank you so much for helping myson, a Beaumont, Texas firefighterwho lost his home to the ravages ofHurricane Harvey. It was welcomerelief." ~ Joni S.
They partnered with Bed, Bath & Beyond; Pottery Barn; Chick-Fil-A and
Mattress Firm, among others, to extend the level of assistance they could
provide. Once they amassed materials for distribution, they focused on the
distribution logistics of getting the items into the hands of those who were
desperate, many of whom had lost everything in the flooding.
The key to their philosophy is solving real problems through qualified
giving. This means that they carefully review applications and nominations
from individuals and families to determine how they can help, rather than
just deciding how much to give them. After the storm, they received hundreds
of applications for help that indicated exactly what these individuals
needed the most.
The Faulk Foundation was able to offer building and cleaning supplies,
clothing, household goods and grocery store and restaurant vouchers as
well as care packages customized to specific needs. By October, more than
500 families received aid from The Faulk Foundation. In addition to supporting
those in Houston, truckloads of sheetrock, mattresses and cleaning
items were also gathered and delivered to Beaumont, Vidor, Lumberton
and Katy, TX, USA.
By the end of the year, through a total of six distribution events, more
than 1,000 individuals benefitted from the efforts of The Faulk Foundation.
Through the efforts of their volunteers, they estimate that they distributed
more than 5,000 panels of sheetrock, approximately 150 mattresses,
more than US$40,000 each worth of cleaning supplies and gift cards, and
US$100,000 in household goods.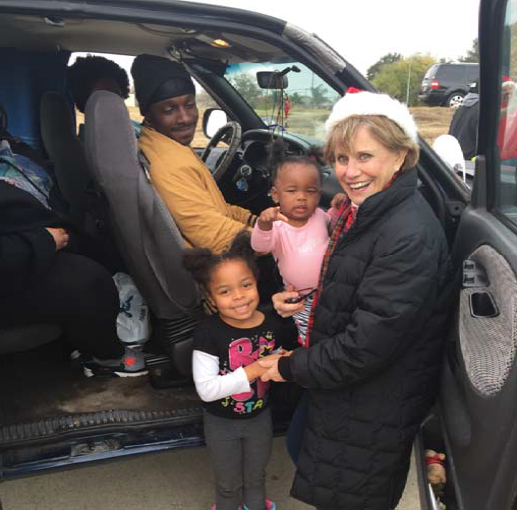 Their efforts were rewarded not in what they had done but in the gratitude
of those who benefitted. One recipient wrote, "What an incredible
organization. I lost all of my furniture to the wrath of Hurricane Harvey. The
Faulk Foundation gifted me with a new (comfortable) bed with box spring,
metal bed frame and pillows, the whole nine yards! I am floored by this
foundation's generosity and fast attention to the needs of their community.
Thank you, thank you, thank you."
Of course, none of this would have happened without an amazing group
of volunteers who are actively involved. In addition to supporting the distribution
events, they have worked tirelessly post-Harvey with the clean-up
and demolition in homes in the Houston area. And they will continue to
do so.
For while Houston is clearly back open for business, there are still hundreds
of flood survivors without homes, or with homes that are still uninhabitable.
Not all jobs have resurfaced and dollars from FEMA and other
agencies may take months and months more before they arrive. Many in
the community, especially the working poor, are still hurting and will be for
years to come. The work of The Faulk Foundation is more crucial than ever
and, while their contributions are small compared to the overall need, their
ability to help others less fortunate is of critical importance.
In fact, while Houston and the Gulf Coast suffered from Hurricane
Harvey last year, they are not alone in regard to community needs across
this country. Disasters, whether natural or man-made, are striking more
frequently than ever. In the current economic climate, more and more
people are suffering. The need for heartfelt, wise and benevolent giving is
greater than ever.
A&C Plastics, Inc. calls on their fellow business colleagues, especially
those in the performance plastics industry, to consider what role you can
play in leading efforts to make the world more whole. There are many avenues
to becoming more socially responsible. Many factors go in to determining
how your business, your family or you as an individual can do the
most good given time, resources, skills and passions. However, one thing is
certain. Just as we challenge each other to evolve and innovate in business,
we should do the same to ensure a brighter future for those around us.
Carolyn Faulk is the CEO of A&C Plastics, Inc. (www.acplastics.com) and Katie
Clapp is the company's president. In addition, both are directors of The Faulk
Foundation (www.faulkfoundation.org) and active in many professional and
civic associations, including the Houston Livestock Show & Rodeo.
"Words cannot express how thankfulI am with this foundation. Theyfirst helped my dear friend withsheet rock when Harvey destroyedher home and now they helped myfamily when Harvey destroyed theirbeds. Thank you for everything y'alldo for our city and more." ~ Eliza T.